10 Hairstyles That Take Less Than 10 Minutes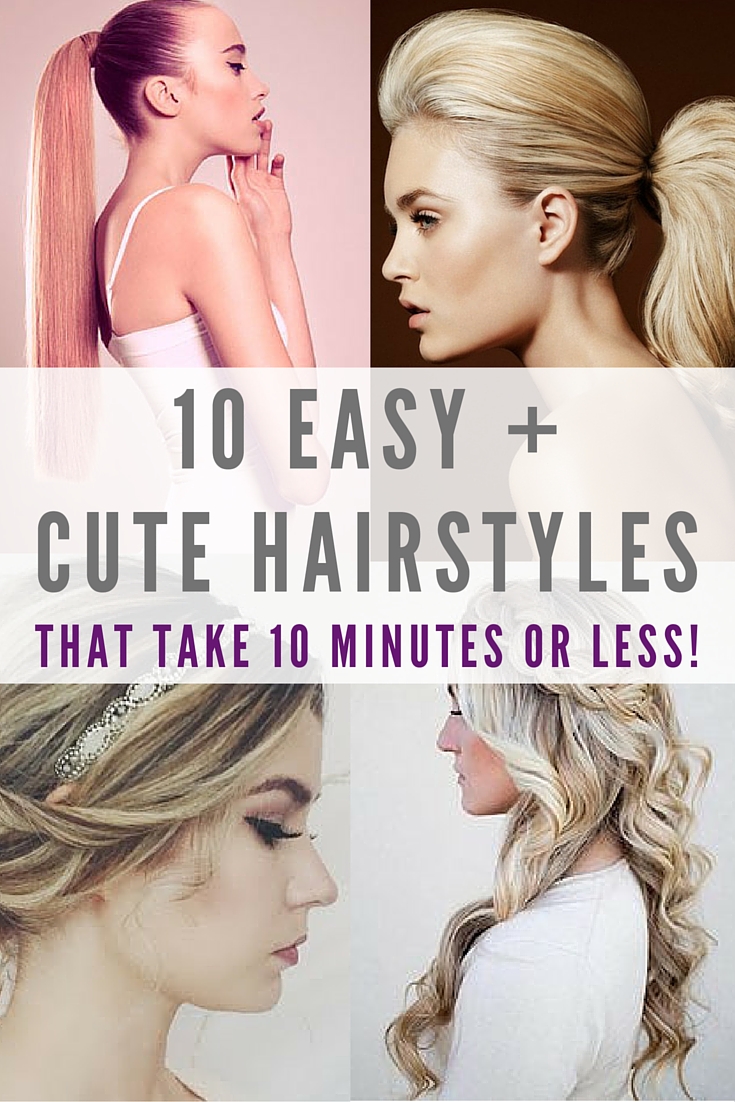 I don't know about you, but I am horrible at doing my own hair. Not only do I not have much time in the morning to play around, I just lack all skill and coordination in styling my hair. Please tell me I'm not alone! However, here is a round up of up-dos mere mortals like me can actually replicate at home. With a few (and only a few) key products and styling tools, you can quickly give yourself a salon-worthy 'do. And hey, if you hate it, try a different one — at least you haven't blown 60 bucks and a hour of precious time on it.
1. BEACH HIPPIE                                       (1 OF 10)
1. BEACH HIPPIE                                       (1 OF 10)
Time it took us: 2 minutes
Stuff to have handy:
Large bobby pins
1-inch curling iron
Shine spray
Light-hold hairspray
Flip hair over and lightly spritz hairspray on underside. Flip upright and spray on the top. Finger-tousle as it dries. Gather your bang-hair area and bobby-pin it out of the way so you can style the rest of your hair first. Curl 1-inch sections (away from your face). Start wrapping your hair around the iron at ear level, not above. And leave your ends out of the curling iron. Unpin the bang section and curl as you did the rest of your hair. Insert spread fingers into hair at the nape of your neck. Shake your hair (but do not run fingers through) to make the curls messy. Now pin back a piece of hair on each side of your part. (Remember, messy = good.) Secure them together with a bobby pin and mist with shine spray.
2. PIN CURL TWIST                                (2 OF 10)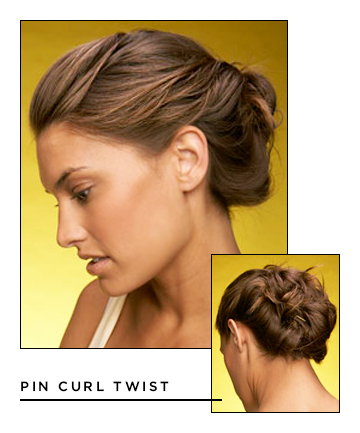 2. PIN CURL TWIST                                (2 OF 10)
Time it took us: 5 minutes
Stuff to have handy:
Brush out a 2-inch-wide bang section and secure back with two bobby pins. Loosen a bit with your fingers by tugging at the hairline. Now you're left with a section of hair over each ear. Run your index finger from behind your left ear up to the crown of your head. Smooth this section of hair into a low ponytail behind your left ear then twist the pony twice toward the back of your head. Secure the remaining tail with bobby pins, then repeat on the right side. Connect the two twists with a bobby pin. And that leaves the always fashionable "mullet" at the nape of your neck. You can leave it like that. We're all done. Just kidding. Back to the mullet. Hold your left index and middle finger under the bobby pins in Step 2, and roll a messy 1-inch section of hair up around your fingers to create a coil. Pinch it, slip it off your fingers and secure with a bobby pin. Don't attach it to the twists in Step 2 or you'll pull them out. Repeat with remaining hair until it's all pinned up. Mist with hairspray.