High Heels: How to Choose Them, Rock Them, and Know How They Could Affect Your Health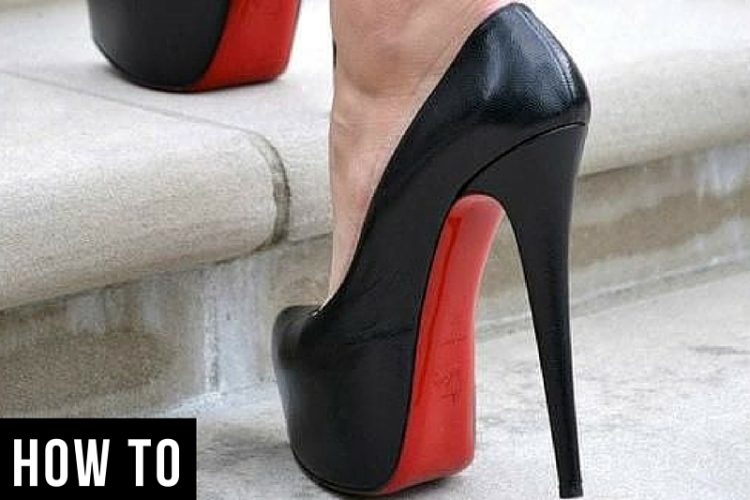 Every girl dreams of the day she'll be able to wear her first pair of high heels. We walked around in plastic princess heels as kids, slipped into our mother's stilettos when she wasn't looking, and tripped up countless flights of stairs while still mastering the art. The high heel is a right of passage for young women and we've got the ins and outs when it comes to the coveted footwear. From choosing the right pair, to walking like a runway model, you've come to the right place.
"Natural Selection":
The perfect pair of heels won't glow surrounded by a beacon of light while the rest just quietly die out, but there is somewhat of a natural selection when it comes to picking the best high heels for you to wear. You've got to know what feels right for you and the best way to do that is by testing the waters. Take a trip to DSW with some of your girlfriends and spend the morning trying on different styles of shoes. Test out a t-strap, practice in a pump, and work your way into a wedge to see what style you like the best. Now, walk up and down the aisle, shift your weight, and strike a pose in front of the mirror. Ideally the best pair of high heels will be not too high and have a glimmer of comfort in the future– after they've been properly broken in of course!
Tips & Tricks:
Always go for a thicker heel, this will better distribute your weight which will relieve the pressure on the balls of your foot. The thicker platform will give you better balance, stability, and support.
Sizing is everything. When you walk in to the store, grab an associate and have them pick up one of those mystical silver planks lying around and have them measure your foot. You want to know exactly what size your foot is to buy the perfect pair of heels! **Keep this in mind: Different brands size differently. If you're an 8 in one brand, you might be a 7.5 in another.
Look for stores with good return policies. The Hunter flats that looked chic in the store might turn out to be extremely uncomfortable later. Always keep in mind that your feet swell throughout the day so it's a good idea to make sure they still fit when you come home. If not, send 'em back!
Make sure your shoes match your outfit to avoid ending up on any "fashion fails" list and when in doubt, choose a classic black heel.
Test the waters and make sure the heel isn't too high. Slip on the desired pair of high heels and stand flat on the ground. Then slowly lift up to your tippy-toes. If there is less than an inch space between your foot and the shoe itself. If you can't do that, they're probably too high and you'll end up walking with your knees bent.
Get technical. Always make sure you have enough toe room and good arch support in any show you purchase.
Rock the Runway:
So you've bought the perfect pair of heels and after wearing them around the house for dayyssss you are ready to take them out. What comes next might actually be the hardest part of the whole process… walking in them. Trust me, it's not easy. Even the wannabe models on America's Next Top Model struggle with their runway walk. I'm no Miss J. Alexander, but I'll do my best to help you walk like him!
Strutting 101:
Start small. Don't leap for the 5 inch heels right away if you have no experience what-so-ever. Skip the skyscrapers for a pair of training wheels instead and opt for a 2 inch pair to start. You'll thank me later once you work your way up to the big leagues.
Have a good foundation. Good posture is the secret golden key to walking in heels. Keep your shoulders back, chest out, and head high to build a strong, solid, heel-walking foundation.
Don't try too hard. Swinging your hips back and forth may feel like a lot of fun, but you mostly just look like your g-string is stuck in places it shouldn't be. Every girl has a set of natural hips that will do you justice without the added effort, I swear!
Heel-Toe. Avoid looking a like a bank robber tip-toeing around and make sure your heel is the first thing to touch ground.
You don't live in the zoo, so don't walk like a baby giraffe. Keep a slight bend in your knees for a natural I-was-born-in-heels vibe.
Take baby steps and keep your stride small. You won't be able to move around as quickly in heels, it's a given, so avoid face planting and don't take giant leaps.
One foot in front of the other. Picture an imaginary line out on the ground in front of you and stay on that line!
Practice makes perfect! Pull up a YouTube video of the Victoria's Secret fashion show and watch the models do their thing. Now get up and try it for yourself!
Confidence! Confidence! Confidence! I can't stress this point enough. If you feel confident that you know how to walk in heels, it will look that way too. My best advice? Fake it 'til you make it!
Health Code:
Nothing so glamorous can be short of a few health issues, am I right? I caution you ladies to be careful when wearing your heels and not to overdo it. Dr. Natalie A. Nevins, an osteopathic physician from Hollywood California has a lot of insight on the issues: "Statistics show that high heels are one of the biggest factors leading to foot problems in women, with up to a third suffering permanent problems as a result of prolonged wear," Dr. Nevins, who specializes in family medicine, osteopathic manipulative medicine, and neuromusculoskeletal medicine, said. Read more about the risk factors of wearing high heels on the American Osteopathic Association website .
Health Code Un-Cut: Wearing heels can lead to…
Posture problems
Skin irritation (ugh, blisters!)
Toe deformities
Bunions
Hammer toes
Increase risk of a sprained ankle
"Pump bump"
The Bottom Line: Choose something that fits right, is broken in, you can successfully walk in, and be aware of the dangers lurking beyond.
What's your favorite high heel piece of advice? Will you look at choosing high heels differently now? What did you learn that you didn't know before?