Lady We Love | Mary Renouf
I'm so excited to reveal that we're bringing back our beloved series, "Lady We Love" where we feature women who inspire us. As we wrap up this year's Breast Cancer Awareness month, I want to remind women everywhere that just because October 2019 is over, we should still dedicate our time, energy and effort to protecting our breast health, supporting women who are fighting breast cancer and continue to come together for the fight against breast cancer. Now that I've gotten that off my chest, I'm particularly excited to share this first "Lady We Love" Mary Renouf. She's a business colleague turned friend and a constant reminder in my life of what we can do to change our life for the better. She's a breast cancer survivor and a complete boss lady! So without wasting anymore time… please dig in and enjoy her incredible interview!
Name: Mary Renouf
Age: 44
City: Portland, OR
Occupation:  AVP Social and Influencer Strategy, Providence St. Joseph Health
Social media: @maryrenouf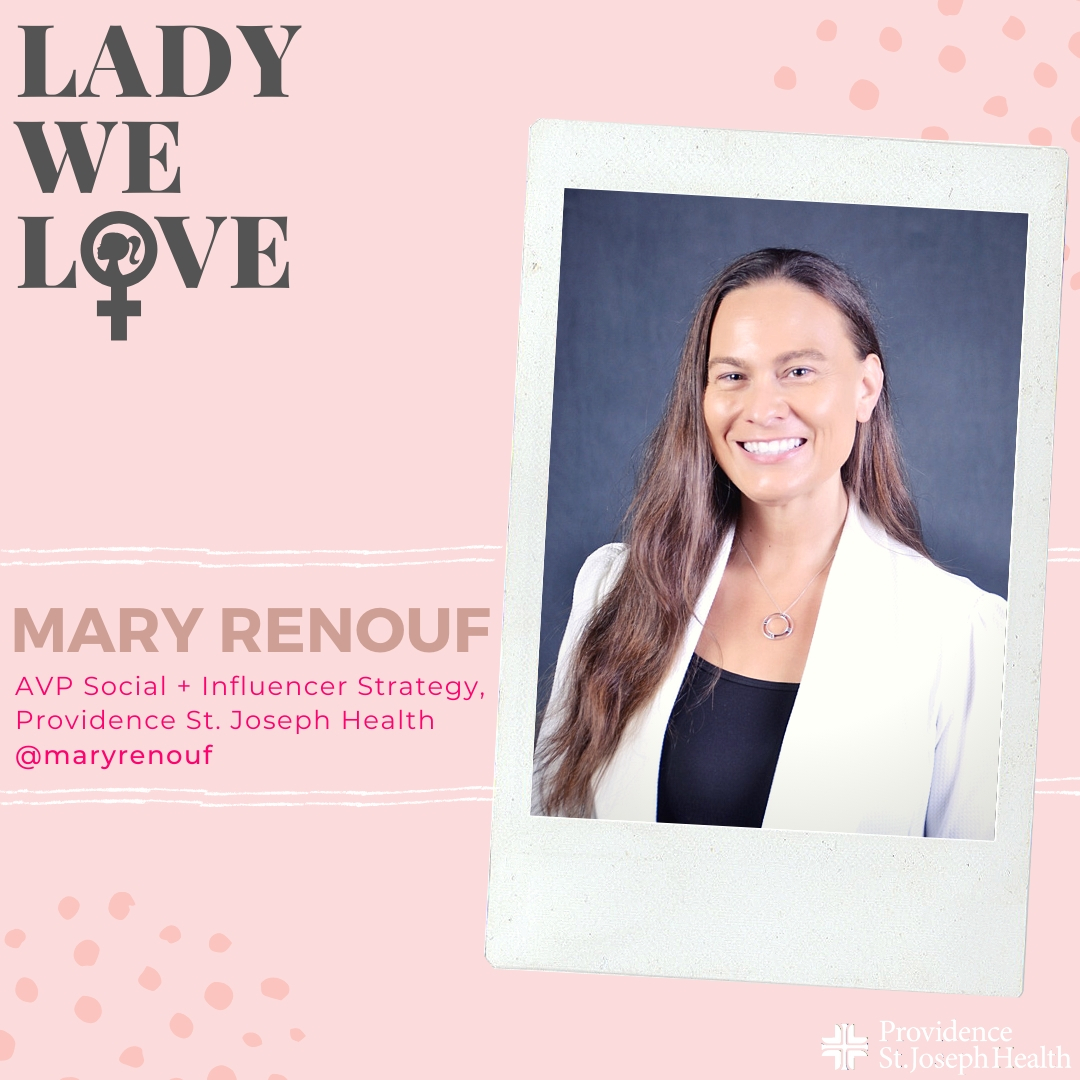 For those readers who don't know you, can you give us a little background about yourself? (Or share your bio?)
Mary Renouf, MBA, is currently Associate Vice President of Social and Influencer Strategy for Providence St. Joseph Health and AVP of Integrated Communications for Well Being Trust. She has more than 18 years of social and digital marketing experience in health care, sports, entertainment and technology industries. Prior to PSJH, Mary served as the global head of social and influencer marketing at T-Mobile, where she oversaw social, digital and influencer programs for seven brands. Prior to joining the Telecomm industry, she ran global social, influencer and digital marketing for Microsoft Xbox, Adidas and several Paul Allen properties including the Portland Trail Blazers. She has numerous awards for her communication strategy innovation, speaks on panels around the country for communications efforts and continues to top lists of people to watch in the social marketing field. Mary is a huge animal lover and is proud to also serve on the Board of Directors for Harmony New Beginnings Animal Rescue. She also serves on the MarComm Committee for the Portland Boys and Girls Club and is on the board of Kinona Sport.
Four years ago you were diagnosed with breast cancer. That must have been a very emotional time for you. Let's go back a little before the diagnosis, what led you to this point? Family history? Felt a mass? Annual check-up?
My family has a history of breast health issues so I've been getting regular mammograms since I was in my late twenties.  Most of the women in my family have what are known as "busy breasts" so getting a call back for a second look isn't uncommon.  I tend not to worry about it as they usually say the same thing "it wasn't anything to worry about, see you next year."
How did you find out that you had breast cancer? 
This time was very different and involved almost eight weeks from the mammogram to the diagnosis.  In previous call backs, I would get the mammogram and then they would leave me a message or send me an email to my medical chart asking me to come back in for another look.  But this time they asked me to call and talk with the doctor.  When I did she told me that they wanted another look because this scan showed what appeared to be a "fast growing mass."  Something that hadn't been there the year prior but was significant in size for one year.
When I went back in for the second scan, they had me wait and asked me to do an ultrasound to get another look.  At that point, I was a bit scared, but still not really panicked.  When the radiologist came in to the room she told me that this was more than a "blip on the screen" and they were going to schedule me for a biopsy. They actually scheduled me for a Fine-needle aspiration biopsy just 48 hours later because they wanted to get it taken care of right away.  This made me happy because they were very focused, but nervous because they were trying to move so quickly.  After that result came back in a couple of days, they had me come back in and talk to them.  They told me it was "unclear" and they highly recommended a surgical biopsy where they remove the mass and send it in for cancer detection. It took a few weeks to get on the schedule with the surgeon and those were very nerve racking weeks.  My mom kept telling me not to worry, it happens a lot and it was probably nothing.  And if it was something, at least it was early and there were a lot of options.
The day I went in for the surgery wasn't really that scary for me from a cancer perspective, it was more the nervousness of having a surgery.  I'm not a big fan of medical procedures, especially needles and I don't like anesthesia, even twilight.  After the surgery they sent me home and said they would call with results.   That's when the thoughts start running through your head and you imagine the worst results you can get.  No matter how many people tell you not to worry or to not waste time worrying until you know – you still worry.  The day I really got nervous was eight days later when the called and asked me to come back in to the surgeon's office.  They had said they would call with results, but instead they asked me to come in.  So I was pretty sure that wasn't a good sign.
The side issue here was that the area where they had removed the mass had started to turn pussy and was painful.  When I met with the surgeon, before he gave me any results I stopped him and asked him to look at the incision.  He said it was a surgical blister and would heal in a few days.  Then he said what I was afraid he would say – the results showed cancer.  It was early and it was stage one and it was considered non-invasive.  That meant it would give me several treatment options and a good prognosis.  And then he referred me to a breast cancer oncologist.
Do you remember your first thoughts? I imagine it must have been a scary time. 
I remember thinking "how is any cancer a good cancer?"  He had called it a good cancer.  And to be honest, I don't remember much about what he said after that.  I heard "results show cancer" and I kind of went numb.  I instantly thought – and this is such a narcissistic thought – I don't want to lose my hair.  Not, I don't want to die, but I don't want to lose my hair.  Then I remember thinking "how am I going to tell my family?"  I hadn't really told anyone other than my mom and a few close friends as I didn't want people to worry.  I'd engaged a prayer chain in our family but it was a small circle.
What was the next step you took after diagnosis? 
After the diagnosis I did what I think everyone does now – I started googling it.  I looked at every article, every treatment option.   I checked reviews on the oncologist, read what people had to say.  I cried.  Then I researched some more.  Then I called my friends who I knew had gone through breast cancer and I asked for every piece of advice I could get.  I talked to people who had chosen radiation. I talked to some who had chosen lumpectomy.  I talked to the ones who had done chemo and I talked to some who had just had both breasts removed to "get it over with."  I weighed my options – all before even meeting with the person who would know what my best options were.
I actually think it was a little easier for me to process because by this time, the spot where I'd had the biopsy was severely infected.  It hadn't been a surgical blister, and because I hadn't been given a correct diagnosis on an infection it had become much worse.  I could actually see the redness in the veins of my breast and it was painful to lift my arm.  So I had to focus on getting the infection treated and that took my mind off of the cancer for a few days.
I did get in to see the oncologist and she was so helpful. She was comforting.  She gave me a lot of options.  They often recommend you do chemo just to be cautious and she gave me a lot of literature to review and told me the decision was mine and she would support any decision I made and make sure I got the best care.
I think the most important step I took in this entire journey though was praying and journaling.  I started writing posts on my blog about my journey – I used #sharethejourney to encourage other people to share their stories and talk about their diagnosis and their treatments.  To make everyone feel like it's not the end of the world and to share their inspiration and positivity.  It made a huge difference to me to just get my feelings out and in some form that I thought might help other people.
Can you tell us about your treatment?
After a lot of conversations with friends and family and even recommendations of friends of friends, I had so much information I was starting to get overwhelmed.  It didn't help that I was also in the middle of selling my house and buying another and moving to another state.  That was stressful, but what was more stressful was changing doctors and health systems in the middle of this diagnosis.  I was grateful that I'd been referred into the Providence network at this time and that was where I'd met with the oncologist.  It was also where I finally got the right treatment and diagnosis on the infection and was getting that cleared up.
I opted to go with a lumpectomy and remove a larger area than the mass.  It was a pretty long debate about whether I would do chemo or not.  I opted to go completely naturopathic on this one.  I cut out all hormones from my diet, stopped taking any birth control to remove hormones, I did vitamin therapy and immunotherapy, I changed my diet to include as many antioxidants and "helpful" foods and I started red light therapy.  I also started getting mammograms every six months to monitor the site.  I went almost 18 months before they found another lump and it started again.  But I did the same thing – lumpectomy and naturopathic.  For now, that's what I've chosen and I'm continuing to get my check-ups on a regular basis.
You're a breast cancer survivor but I'm sure this experience still conjures up emotions for you. How would you describe what you feel today? 
I feel grateful that I'm a survivor.  I feel blessed that I had good medical coverage and was able to catch it early.  I feel humbled that so many people went on the journey with me – that I had support from around the globe and some of the strongest friends and family on the planet.  My coworkers were amazing as well – they filled in for me, they encouraged me and they made sure I had the best care in our system.
What advice would you give to another woman if she's ever faced with this type of diagnosis?
Simple- it's ok to be worried, but it's more important to focus on the healing and making sure you're not going through it alone.  Lean on your friends and family. Ask them for their support.  Don't be afraid to be vulnerable, but don't let it get you down.  The odds of beating it are so much higher now.  Don't give up.  Be strong!
I'm sure this experience taught you a lot. What did it teach you about yourself? 
The coolest thing for me was the complete lifestyle change this caused for me.  I decided I wanted to be healthier.  I wanted to lose weight and give myself a fighting chance at health.  I wanted to start exercising more and get my body into true fighting form.  I wanted to start meditating and doing yoga, to really embrace my overall mental, physical and spiritual well-being.  In the course of two years after that cancer trauma, I managed to lose 120 pounds, get into a strong cardiac and strength training program and really turn my happiness around.  Cancer did not define me.  It did not beat me, it actually made me stronger.  It made me healthier.  It made me more determined.  It made me…. Better!
I've watched your journey over the years and have constantly been in awe of your determination, dedication and strength. How has this lifestyle makeover changed your life? 
It's been amazing.  It's made me realize that it's ok to put yourself first sometimes.  It's ok to want to be a better you – it doesn't make you "self-absorbed" to take part in self-care.  We, especially as women, are taught to care about everyone but ourselves and when we do that, oftentimes we get so worn down we don't have enough left in the tank to care for ourselves.  And how do we help others if we're not ok ourselves?    The changes in my life have really been a complete and total reset for me (https://medium.com/@maryrenouf/hitting-the-reset-button-b1e34a0e78ba)
We all lose a little inspiration sometimes. Have you ever felt like giving up? How do you get back on your feet when you have bad days?
Talk about a setback.  Two years after my cancer diagnosis and over 100 pounds down in my fitness journey and I got some of the worst news I could have imagined – I was diagnosed with cervical cancer.  I mean come on, right? I beat breast cancer, I lost 100 pounds and now I get this?  It was so hard not to just give up.  I won't lie either, I had a few days where I wallowed in self-pity.  I ate badly, I stayed in bed and I got angry.  I spent about 72 hours in this place and then I realized, that I couldn't give up.  I HAD beaten cancer.  I HAD lost 100 pounds and counting.  I had beat other obstacles in life and why would this be any different.  I actually had that movie moment where you look in the mirror and you say to yourself "you've got this, stop feeling sorry for yourself, snap out of it and get back out there and kick its ass."  And that's what I did.  I again found a great doctor, I chose the right treatment for me and I started handing cancer its own ass back!
You've been very open and honest about your experience with breast cancer, weight loss, etc. To anyone who isn't privy to your story, in a few sentences how would you describe these past few years. 
I think I've already said it, and I know it's a very long diatribe I posted about it in my blog (https://medium.com/@maryrenouf/hitting-the-reset-button-b1e34a0e78ba)) but it really was a complete life reset.  I took control of my physical health, my mental health and my spiritual health.  I basically took complete control over my own happiness and decided that life was going to be what I decided, not what anyone else decided and there has been no looking back.
I know I already asked what advice you'd give to a woman facing a breast cancer diagnosis, but what advice would you give to someone who wants to make a big lifestyle change but perhaps is scared or doesn't know where to start?
Starting is the hardest part.  Every step from the first one is easier than the last. It's deciding that you ARE worth it.  That you CAN do it.  The biggest advice I would give anyone after just getting started is to do things in attainable steps. Don't say "I'm going to lose 100 pounds," say "I'm going to lose 5 pounds."  Celebrate that 5 pounds and set the next goal – maybe it's another 5 or another 10, but do it in blocks that you can do.  Because every time you do, the next goal is more believable to your own psyche.  If you fail one day, it's not the journey that fails. Get back on it and get refocused.  Never give up!
You work in the healthcare industry. Can you tell us about what you do? 
My job is to make sure that consumers know about what we do in the health space.  I'm a storyteller basically.  I use social and influencer marketing and communications to build awareness for the great programs and services that our organization provides.  I do a lot of that through real people and influencers telling their stories.  Making health care normal, not scary and accessible.  It's great using the skills I developed in sports and entertainment to bring good to people and health care.  I often say I'm now using my powers for good
I imagine your own health battles have only added more passion to your interest in health care. How has it motivated you or inspired you? 
This is so true.  You can work in health care and think you understand, but until you're a patient, especially a scared and vulnerable one, you don't really understand what it's like.  Especially since I wasn't in our system when I started the cancer battle and it was not a pleasant experience.  I was fortunate that I was able to navigate the system and get into the Providence St. Joseph Health network to complete my care.  But what it really made me want to do was use social and storytelling to help people get through their own journeys and to make it easier for people.
So digging further into your personal life a bit, a few years ago you left the city and bought a farm. What a big change that must've been! Can you tell us what it's been like? 
Ha, they call me Country Couture and I always blog about my farm escapades using #farmlife and #citygirlturnedcountry because I am definitely a city girl trying to live on a farm.  I did it because I wanted a quieter life.  I wanted to commune with nature and really, truly, live in a healthier place.  Living in the country means it's quieter, it's cleaner just by the air and it's a less stressful life overall.  Now farm life is not easy and it's not without its own stresses, but there's something to be said about being busy raising alpaca or goats.  It's a way more fun busy than it is in the city
What is a typical day like on the farm? 
I wish there was a typical day. I think it's more like a game of "what fun new mischief have the pygmy goats gotten into" overnight when you go out to feed in the morning.  Sometimes they've learned how to hop over a fence using tree stumps and get into a different pasture.  Other times you find a neighbor's pig has decided to move into your barn.  It's a lot of work and it's not always clean, but it sure is entertaining!
In so many ways, you've always been and continue to be such an inspiration to me and so many others. Who inspires you? 
I always struggle with this question.  I feel like I should pick a famous activist or someone like Mother Theresa, but it really is my friends and family who inspire me. My mom has done so much good in the world and she did it always while working and going to school and raising a family.  My friends who have gone through major life traumas and still continued to persevere – they inspire me.  The young women I get to meet through work who are doing amazing things in the community to build awareness about mental health – like the kids who worked with us to get a bill passed allowing them to take mental health days in high school in Oregon – THOSE kids inspire me!
What is your (breast cancer) shepower?  Loving and embracing every ounce of my scarred, imperfect and misshapen from surgery tatas!
Anything else you'd like share….
The one thing I always want to leave people with is – you are not alone, you are worth it, you are loved and you CAN make it through anything that seems unsurmountable.  You just need to take it one step at a time, one call to a friend at a time, one breath at a time – just keep breathing!