Nurse We Love: Sonia Egdorf
In honor of National Nurses Week, we've partnered with Providence to launch our new "Nurse We Love" series to celebrate nurses around the country, especially the incredible men and women working at their hospitals. This year more than ever, we are extra thankful and grateful for the nurses in our lives. In these last few months, we have all witnessed how committed nurses around the country (and across the world) are to selflessly serve and care for others, no matter the circumstance. Day after day, these men and women show up to work with an unwavering commitment to their patients' health and well-being. Every day, nurses around the country put their own safety and health on the line to protect the rest of us. There's no question that nurses are our living proof that not all heroes wear capes — some wear scrubs and a face mask.
Every day during Nurses Week (May 6-May 12) we will be sharing an interview with a "Nurse We Love" so be sure to check back daily.
Now for our first interview, please meet Sonia Egdorf. Sonia is an RN at Providence Kodiak Medical Center in Alaska.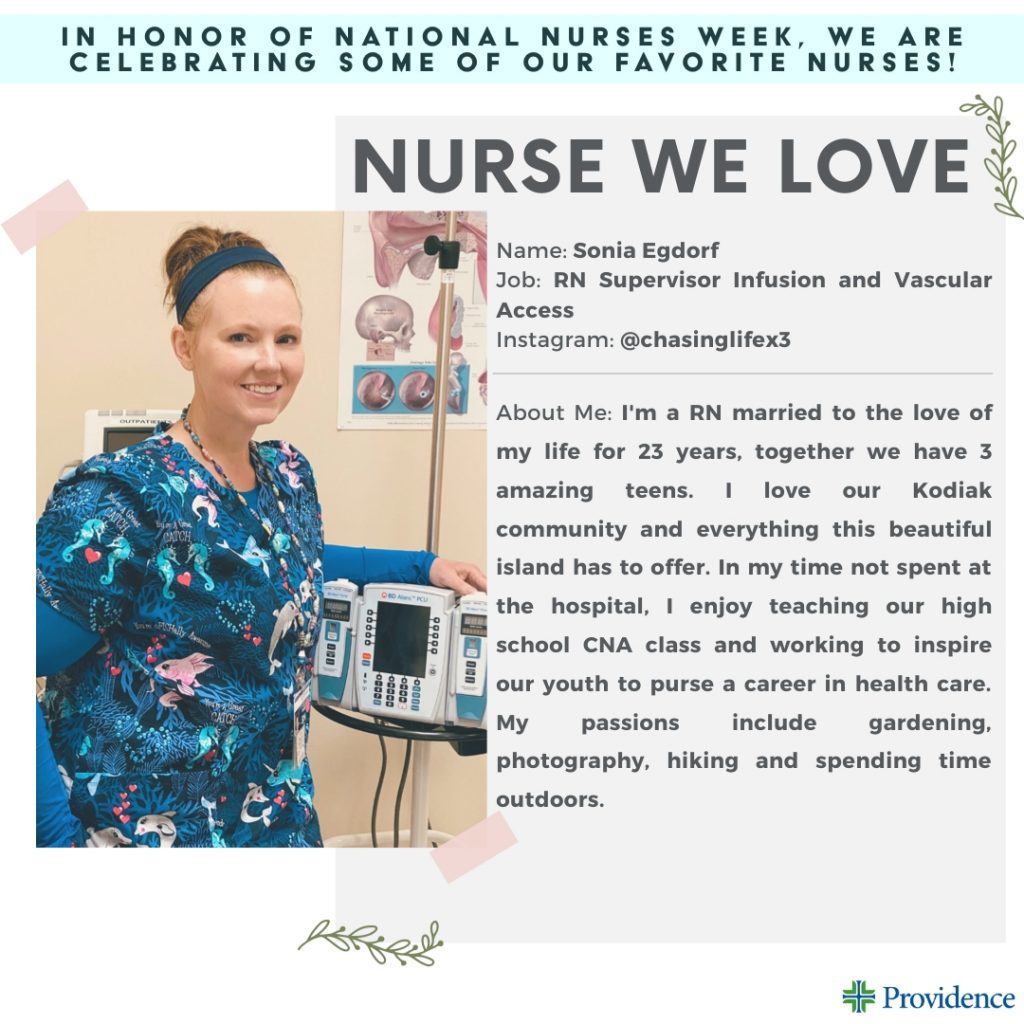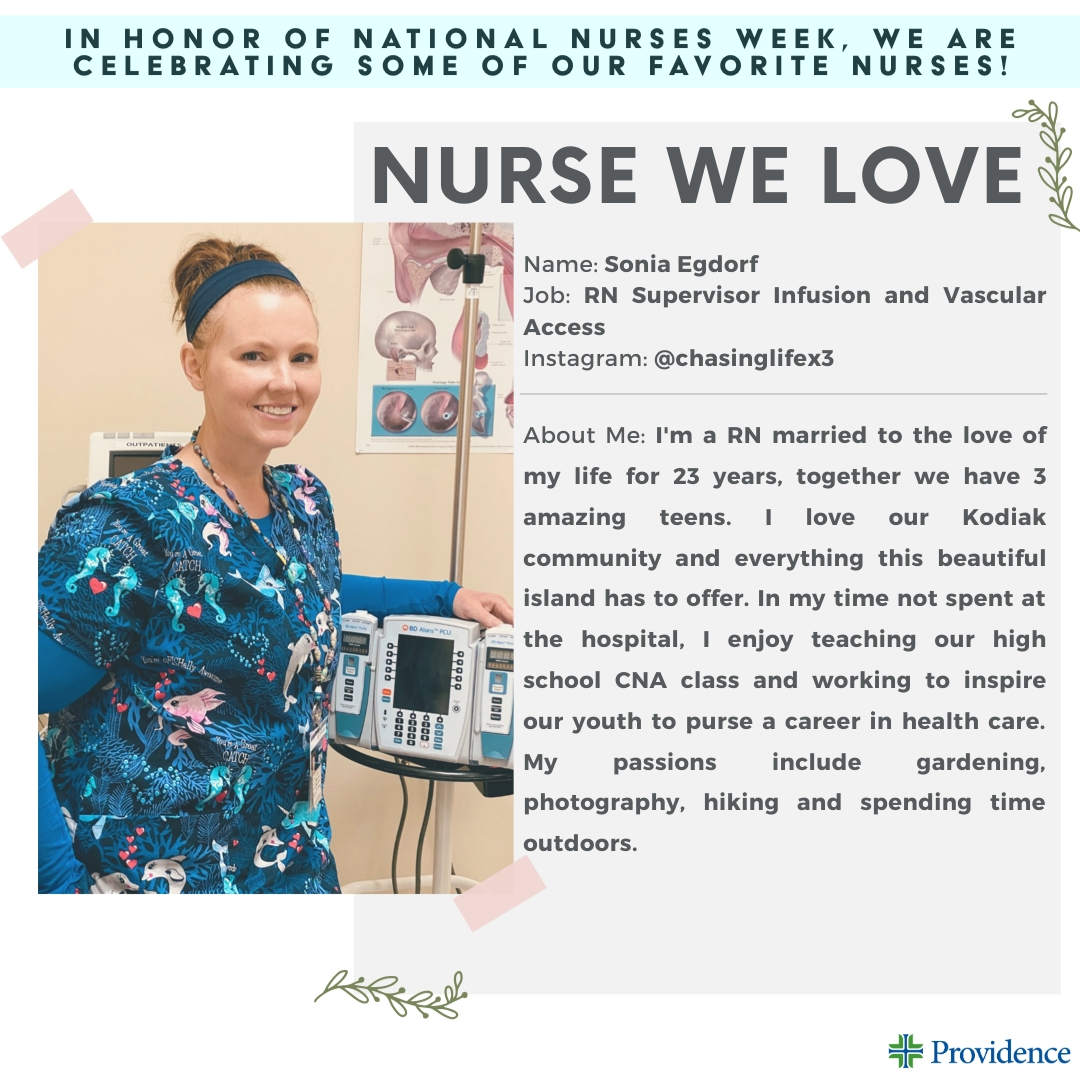 Name: Sonia Egdorf
Instagram Account: @chasinglifex3
Job Title: RN Supervisor Infusion and Vascular Access
About Me: I'm an RN married to the love of my life for 23 years, together we have 3 amazing teens. I love our Kodiak community and everything this beautiful Island has to offer. In my time not spent at the hospital, I enjoy teaching our high school CNA class and working to inspire our youth to pursue a career in health care. My passions include gardening, photography, hiking, and spending time outdoors.
What inspired you to become a nurse?
I wanted to be a nurse immediately after high school, however, life had other plans. I'm a three-time cancer survivor so I've been a patient more than most. Had I not gone through everything I have I don't think I could relate to my patients as well as I do. The amazing nurses I had throughout my care continued to inspire me to pursue my nursing career and I strive every day to be there for my patients the way they were there for me.
Is there a story about 'why' you chose nursing or nursing chose you?
I choose the Infusion Dept because we serve primarily patients going through cancer treatment, because of my history with cancer I feel that it is where my heart is called to serve. It gives purpose to my suffering; there's a reason I went through all of it, which is to serve others in the same situation.
What about your work inspires you and gets you out of bed every morning?
My patients inspire me. Every day I witness their incredible strength through adversity and how they handle it was such amazing grace. They are my WHY.
What is your nurse #shepower?
My nurse #shepower is my compassion and dedication to patient advocacy.
At Providence St. Joseph Health, our mission calls us to be agents of radical change for health. We're to be a source of healing love and a beacon of hope … in the world, within each of the communities.   We believe everyone deserves a chance to lead the healthiest life possible. That's why we're continuously innovating to create access for all and foster healthier communities. We believe that to make the greatest impact we need to leverage the assets of our organization in partnership with other organizations of goodwill that are directly addressing fundamental needs better served outside of a clinical care setting.  Improving the health of our communities is fundamental and a commitment rooted deeply in our heritage and purpose.
Disclaimer: All information, content, and material of this website is for informational purposes only and are not intended to serve as a substitute for the consultation, diagnosis, and/or medical treatment of a qualified physician or healthcare provider.
MEDICAL EMERGENCY
If you have a medical emergency, call your doctor or 911 immediately.