LA Lady We Love: Brooke Mora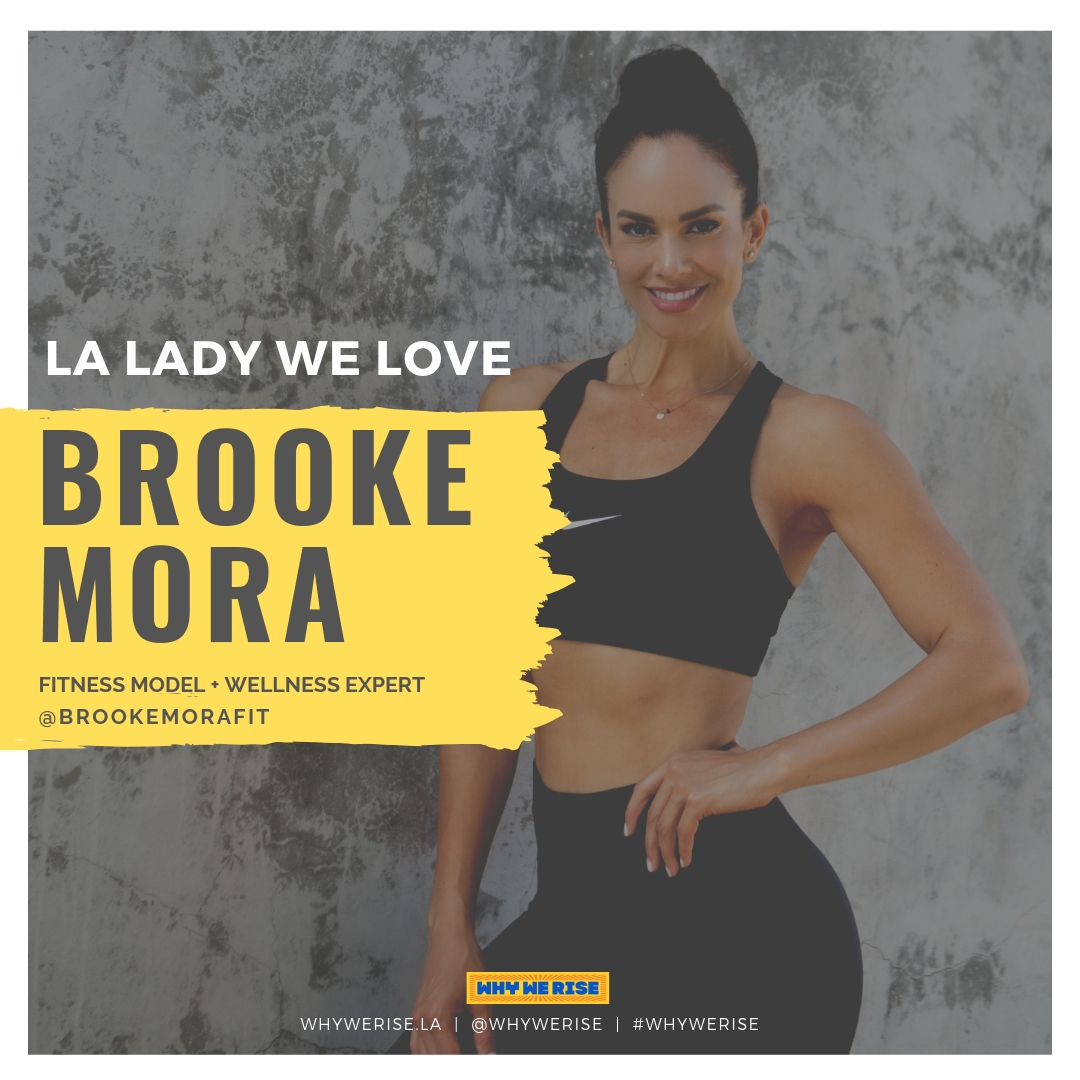 We all know that being a woman isn't easy but it's our belief at HerFeed that no matter how different our life stories are and/or the characters in them, there are times in life where getting the reassurance we aren't alone is invaluable. This is why I am so excited to launch this new series, LA Ladies We Love, featuring women surviving and thriving in Los Angeles as a partnership with WhyWeRise. Each of these women has her own story to share. Like many of us, she's had to overcome some obstacle or challenge in her life. Yet she is living proof that we can not only survive the good but we can survive the bad and ugly that life throws our way. We can learn from our mishaps, misfortunes and mistakes. We can (and will) continue to evolve into better women. And when we follow our hearts, chase after our dreams and stay true to our passions, we are truly unstoppable! Now without further ado…
Our first LA Lady We Love, Brooke Mora. Brooke is a fitness model and wellness expert. She's one of the most inspiring women I know. (Full disclosure: I am also incredibly fortunate to have her as one of my closest friends.) We sat down to talk about her journey into fitness, her advice for other women looking to improve their health and wellness and advice she would give to her younger self. Read on for the full interview…
What is something in your life you've struggled with and/or challenging time you faced?
I would have to say the most challenging times in my life have been when I've lost myself.  There have been many times where I've given so much of myself into relationships and dealing with a father with mental illness that I lost sight of my own needs.  This is still something I continue to work on.  It's important for me to have a high level of self care and self awareness.  As a personal trainer,  I am a teacher and life coach.  And it is my passion to equip people with the skills to be successful in they fitness journey as well as their life journey.  That's why taking care of myself is so important. I want to live my life as an example to inspire and motivate others.
How did you overcome this? 
During these times I wasn't putting myself first. I wasn't eating healthfully, I wasn't active. I was unhappy and I knew I needed to make changes.  This is where fitness came into my life. I joined the gym and just started moving and I was more mindful of what I ate. I also became more spiritual and starting praying, meditating and journaling on a daily basis.  I started hearing my own voice and starting listening to it.
What advice do you have for someone going through a hard time? 
My advice is to know you can change your circumstances, your perspective and your thoughts. I advise everyone to adopt daily practices that provide positive motivation and replace negative thoughts with positive thoughts about themselves.  What we think is what we become. Our thoughts become words, our words become actions.  Its the practice of disciplining the mind.  I also recommend moving your body and exercising at least 30mins 3-5x a week.  It is scientifically proven that exercise releases the "feel-good" chemicals called endorphins and supports nerve cell growth in the hippocampus, improving nerve cell connections which helps relieve depression.
What do you know now that you wish you knew when you were younger? Or something you'd tell your younger self? 
Believe in yourself!

Put yourself first.

Know your greatness.

Know that you are exactly where you need to be in life.

Stop trying to find yourself and just be yourself with confidence.

Learn to operate in love and truly forgive.

Live unapologetically and respect yourself with your actions.

Shine your light always!
You're an inspiration to all of those who know you. What do you hope other women can gain from you sharing your story? 
I want women to know we're all in this together! We all struggle with the same things.  I want to encourage and inspire women to find their strength and power.  The gym to me is a metaphor for life.  Change your thoughts, change your body, change your life.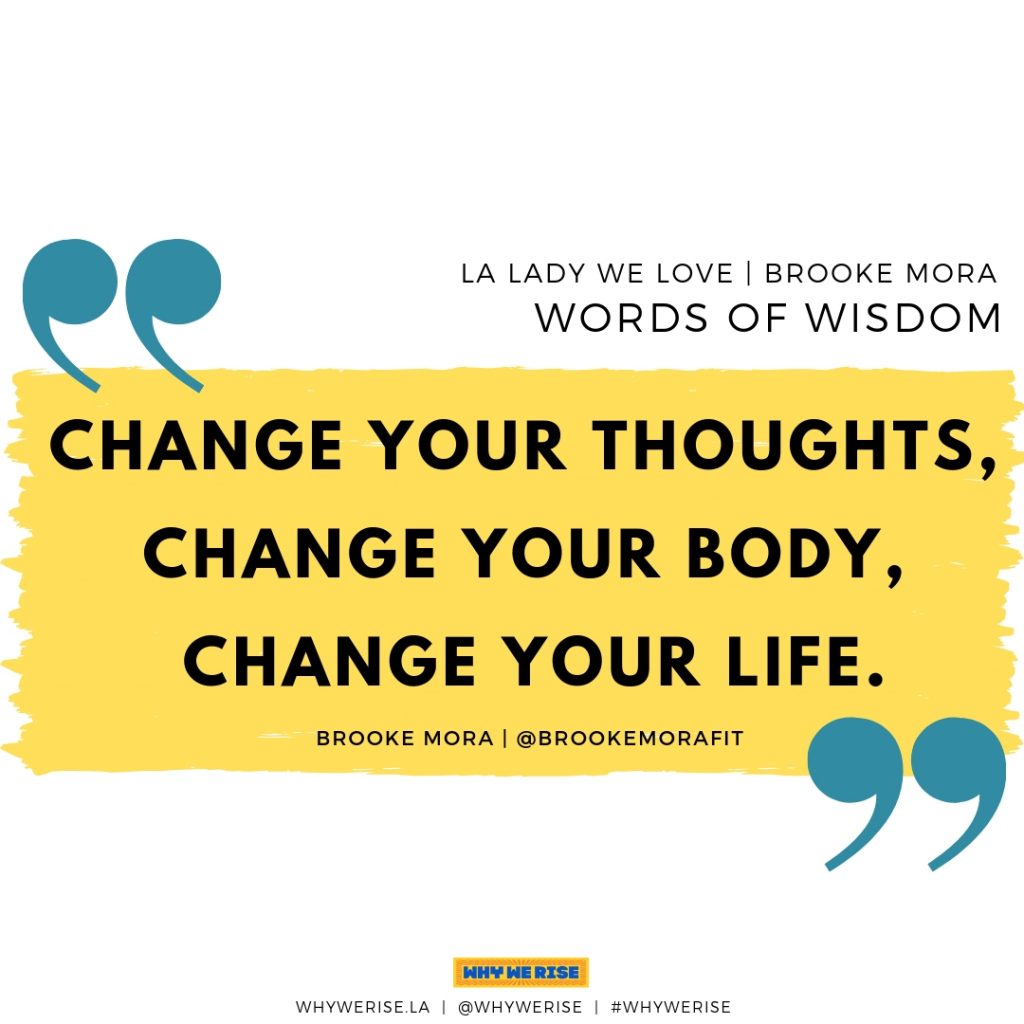 For more information about Brooke, check out her Instagram @BrookeMoraFit
Here is more information about our partners for this campaign…
WHY WE RISE and WE RISE are calls to action, asking you to join a movement to break through barriers and defy old assumptions about mental health care and the many related social conditions that compound problems and hurt our communities.  Together we can fix a broken system. This campaign is an ongoing project of the Los Angeles County Department of Mental Health (LACDMH) launched during Mental Health Awareness Month in May 2018. LACDMH provides a wide variety of mental health-related services to hundreds of thousands of people each year, offering hope, recovery, reconnection and wellbeing.
Check out Why We Rise on Instagram! 
Well Being Trust is a national foundation dedicated to advancing the mental, social and spiritual health of the nation. We aim to significantly reduce the personal, familial, social and economic costs of mental illness and substance misuse. To accomplish this, Well Being Trust is establishing and advancing a comprehensive agenda for policies, programs, investment, multisector engagement and other solutions to address the underlying drivers of disease and pain, so everyone can achieve their fullest potential for their lives.