10 Best Hair Tutorials for Short Hair
Our shorties of the world just don't get enough love. Right? Just because you've got less to work with doesn't mean you can't create amazing styles. You can, and usually in less time! We compiled 10 of our favorite short hairstyles that will take you from morning until night.
This tutorial by One Little Momma is super easy and actually uses a flat iron not a curling iron! If you like the appearance of more crimped waves then this tutorial will be perfect for you.
This tutorial from Cute Girl Hairstyles can actually work with long or short hair, but we think it's cuter on the shorties! It's pretty simple once you get the hang of it. This one comes with a video too!
There are so many amazing headbands out there and we don't use them enough. This look is very romantic and can easily work without the bangs.
The Small Things brings us a super simple hairstyle that is perfect for everyday wear. The key to this one is body, so make sure you've added some volumizing spray.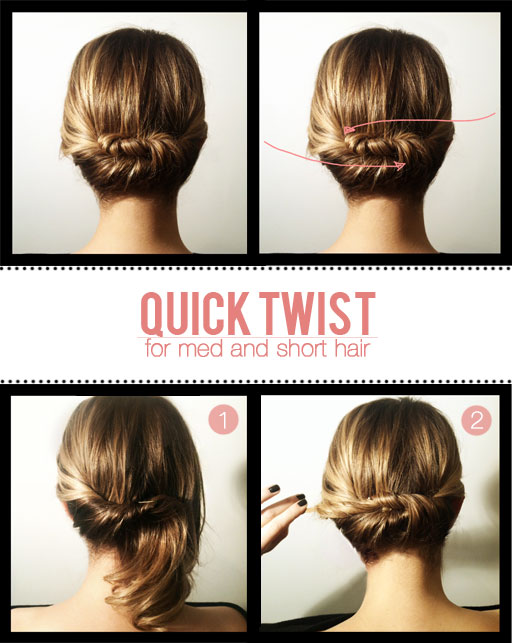 Some days we just don't know what we'd do without the beauty department. Their tutorials are awesome and we especially love ones that are incredibly simple like this one!
Whippy cake shows us how to rock this double braided ponytail. This is a great casual look we think looks especially awesome in the summer and fall.
A chignon will get you through many elegant occasions in life. This chignon with side wave elevates that look to a whole other level.
The Glamouri's tutorial for short curly hair makes us have confidence that even we could do this. Her step-by-step approach is great and the results are gorgeous.
You can wear this one with or without the scarf, but we sure do love the versatility! Either way this look gives the illusion that you have much more hair than you actually do.

Another favorite from the Beauty Department, you can pull this one off for everyday casual looks or nighttime events.