10 Beauty Essentials for Your Gym Bag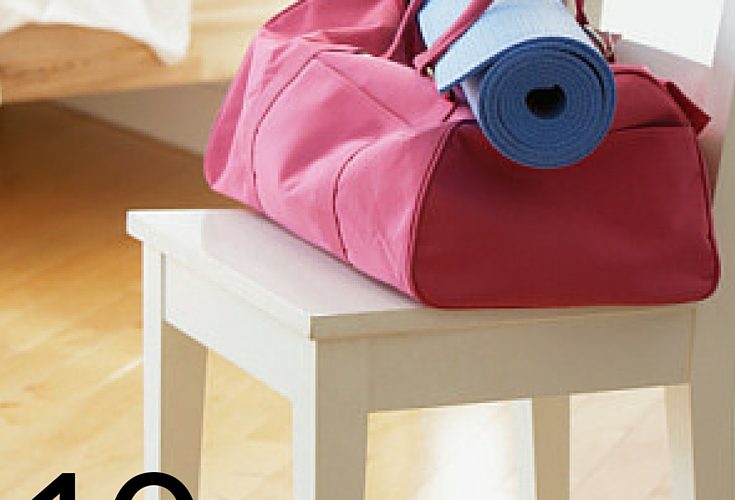 When sweating it out at the gym, it can be difficult to look good for the hottie on the treadmill next to you. Whether it's a passing glance or he asks you out for drinks afterward, these 10 beauty products will have you looking polished in no time.
1. Drybar 'Detox' Dry Shampoo
If you haven't been to a Drybar bar, I highly suggest you do so. Their products are incredible and their tools unparalleled. This dry shampoo smells amazing and doesn't leave your hair powdery or stiff. In fact, it adds volume and movement, all while fixing up your post-workout mess of a hairstyle.
2. Neutrogena makeup remover cleansing towelettes
These soft makeup wipes are the perfect solution to quickly wiping down your face after a grueling workout. They're gentle on your skin, won't cause breakouts and smell great.
3. lululemon 'Fly Away Tamer' Headband
Although lululemon is one of the most inexpensive fitness brands out there, there's nothing more annoying than when your hair is in your face during a workout. Invest in a thick, rubber-lined headband to tame fly aways and soak up sweat.
4. Benefit 'Stay Flawless' 15-Hour Primer
I always thought primer was a scam conjured up by the woman at the beauty counter to get me to spend more money, but with my most recent purchase, I have never been further from the truth. This incredible makeup primer by Benefit sets makeup and keeps it put all day long – perfect if you like to go to the gym with a little bit of makeup. Even through sweat, your skin will simply look dewey.
5. Secret Clinical Strength deodorant
Deodorant at the gym seems obvious, but these tiny sticks are perfect for those of us with over-stuffed gym bags. The clinical strength will keep you fresh all day long, with odor fighting capsules and pH balancing.
6. Chi Turbo Low EMF Dryer
At kind of a steep price for a blow dryer, you may be wondering if it's really worth it. Answer: It is beyond worth it. This professional-grade tool will cut your drying time nearly in half, making it a great haircare investment. It's lightweight and far more quiet than any other blow dryer I have ever used. Plus, Chi has absolutely incredible customer service.
7. Origins 'A Perfect World' Antioxidant Cleanser with White Tea
If makeup remover wipes don't quite cut it, you may need something more to remove the grease and grime from your face post-workout. This foaming face wash by Origins is made without harmful chemicals. It soothes skin while removing impurities and toxins. You can't go wrong with Origins face wash, whichever type you choose.
8. Clinique Age Defense BB Cream
Whether you're 18 or 80, this BB cream can work wonders for you. It's got antioxidants to prevent aging and SPF protection (which we're told to use on the daily, but rarely do). This lightweight formula has the coverage you need to even out your skin post-workout.
9. Ralph Lauren 'Big Pony #1 – Blue' For Her Refreshing Body Mist
You may not want the weight of perfume post-workout, so body spray is the next best option. It's lightweight and fresh, so pick a scent that suits you and you'll be ready to head out with friends after the gym. This mist from Ralph Lauren has notes of blue lotus and grapefruit, so you'll smell refreshed and energetic.
10. benefit 'Posietint' '
When deciding what was more important to bring in your gym bag – a splash of color for your cheeks or a bold hue for your lips – I decided to bring the best of both worlds. Benefit's line of tints come in an almost nail polish-like container, with a brush that can be used on both the lips and cheeks. Whether you're looking for lip or cheek tint, this tiny bottle can tackle both, and with long lasting results.
What beauty essentials do you take to the gym?